MAIN · EPISODE GUIDE · MEDIA · COVERAGE · BACKSTAGE · FORUM
COVERAGE - WOLVERINE HOME VIDEO REVIEW
Marvel Anime: Wolverine
Studio: Sony Pictures Home Entertainment
Plot Summary:
The love of Logan's life, Mariko Yashida, is forced back to Japan by her father Shingen, a notorious crime lord. Once in Japan, she is forcibly betrothed to Kurohagi, a cruel criminal associate of her father, to solidify their business interests. Logan is determined to get her back, yet is plunged into a tangled web of corruption and violence at every turn. But with the help of young assassin Yukio, he just might manage to claw his way through the criminal underworld to confront Shingen and save Mariko.
DVD Bonus Features:
-The Marvel Anime Universe: Wolverine Reborn
-The Ferocious Anti-Hero: Wolverine Defined
-Wolverine Meets X-Men
-Trailers
Street Date: July 31st, 2012
Release Format: Two-Disc DVD
Suggested Retail Price: $14.99 (US only)
Feature Run Time: Approx. run time 287 minutes
Aspect Ratio: 1.78:1 Widescreen (Enhanced for 16X9 televisions)
Sound: Dolby Digital 5.1 Sound
Languages: English (US) 5.1, Japanese 5.1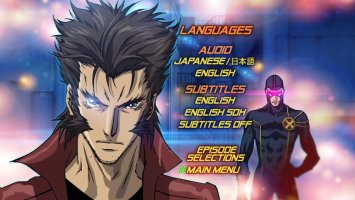 Wolverine DVD Review
By James Harvey
Have you picked up the other Marvel Anime titles from Sony Pictures Home Entertainment? If so, you'll get more of the same here, basically. Wolverine gets a nice two-disc release with a healthy dose of extras and an awesome presentation.
What we get is essentially along the same lines as the other Marvel Anime DVD titles, with a few featurettes, some trailers and … that's it. It may sound like scant offerings, but we we get here is actually plenty The featuettes include "The Marvel Anime Universe: Wolverine Reborn," "The Ferocious Anti-Hero: Wolverine Defined," and "Wolverine Meets X-Men." The featurettes cover the creation of the series, a look at Wolverine, and a nice chat with the creators working on the series. It's actually pretty interesting for the most part, a healthy mix of fluff material and some actual in-depth discussions.
The audio and video is, of course, really solid across the board. The video is sharp, reminding us that DVDs can still deliver a quality visual experience. Colors are bright and detail great for standard definition. Everything is pleasing to the eye. Same with the audio mix. Whether you listen to the original Japanese track, or the dubbed English, everything is crisp and clear. While these releases would make for great Blu-ray releases, these DVD titles are nothing to scoff at. But still, why weren't these released on Blu-ray ... ?
Overall, a nice DVD package for the Wolverine series. If you enjoyed the series, then pick up this title. While the series can drag from time to time, there are plenty of moments to keep viewers enthused, even if it can be a struggle to get to that last episode. Wolverine fans – once you get over the not-so-good character design for him – should be pleased with what they find. And, like the other Marvel Anime DVD titles, there's some great behind-the-scenes material here for those looking to learn more about these Marvel Anime titles. The bonus features make for a great compliment to the main feature, actually. Still, unless you're a major fan of the character or of the Wolverine series itself, this is worth at least a rental.
Continue to the Wolverine Series Review
Follow Marvel Animation Age on
Twitter - Facebook - Tumblr
Marvel Animation and related content are property of Marvel Entertainment,
LLC, a wholly-owned subsidiary of The Walt Disney Company, 2001 - 2013.
Marvel Animation Age and everything relating to this site - copyright, 2013.
Proudly hosted by toonzone. Contact us.