· Character Bios
· Episode Guide
· Episode Reviews
· Archives
· Interviews
· Video Clips
· Title Sequence
· Comic Gallery
· Home Video
· Cameos
· Avatars
· Message Board
· MAA Home Page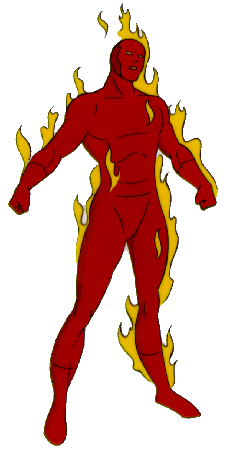 Mr. Fantastic



Real Name: Reed Richards
First Appearance: Origin Of The Fantastic Four, Part 1
Voice: Beau Wiever

Bio: An intelligent and determined scientist, Reed Richards was startled when he discovered a strange cosmic disturbance in space. Eager to discover what the disturbance was, Reed jetted off into space, foolishly ignoring pilot Ben Grimmís warnings that the new vessel had no shielding from any cosmic radiation.

Reed, along with his wife Sue, her brother Johnny and his best friend Ben Grimm flew into space together. Unfortunately, the ship was bombarded with cosmic rays and the ship crashed back down to earth. Miraculously, the 4 survived. Upon leaving their craft, they realised they had gained fantastic new powers.

Reed gained the ability to stretch his body. Opting to call himself Mr. Fantastic, the 4 often saved the world from the itís enemies, including Reedís former college room mate, Victor Von Doom.

Whilst his wife and sister in law revelled in their newfound powers, Reed concentrated on both funding their exploits and inventing devices to help them fight crime. He also tried to find a cure for the very powers that made him a superhero, in order to help The Thing revert back to Ben Grimm. He blames himself for his friendís tragic appearance.