· Character Bios
· Episode Guide
· Episode Reviews
· Interviews
· Archives
· Comic Gallery
· Video Clips
· Title Sequence
· Releases
· Downloads
· Message Board
· MAA Home Page
Iron Man Series Description:

From the pages of world renowned Marvel Comics comes one of the mightiest and most successful defenders ever to live, Iron Man. This animated series is packed with all the excitement and adventure viewers have come to expect. Behind the mask of Iron Man is Tony Stark - a dashing billionaire, brilliant inventor and industrialist. Suffering from massive injuries, Stark created for himself a suit of highly sophisticated armor which imbues him with superhuman powers. Assisting Iron Man in an endless struggle against The Mandarin, a mysterious and treacherous villain who leads a consortium of the world's most nefarious bad guys, are War Machine, Spider-Woman, Scarlet Witch, Hawkeye and Century. Our heroes have their hands full, as the Mandarin is aided by some of the most merciless menaces around. The Mandarin tries to destroy the world that Tony Stark is working to improve and Iron Man is struggling to protect.

Iron Man premiered in September 1994 as part of one half of the syndicated The Marvel Action Hour programming block alongside Fantastic Four. After poorly-received first season, which ran for thirteen episodes, the series was revamped for its second season in 1995. The thirteen episode second season featured completely revamped character designs, more complex stories, and a more mature tone.

Iron Man currently airs on Disney XD and in numerous international markets, and is also available on DVD home video.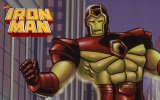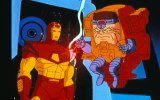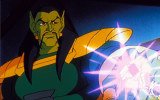 Check for the latest updates at Marvel Animation Age News