Cameos

Over the course, several characters from the Marvel Universe appeared in the show, usually a spilt second, blink and you'll miss them cameo. Presented below are captures of each cameo, and which episode they appeared in. Enjoy!


Triumph Of The Green Goblin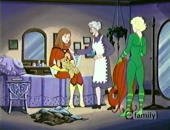 At the Comic Book costume party, the guests dress up as Captain America, Medusa, Spider-Woman, The Hulk, The Black Widow, Daredevil, Shanna The She Devil, Luke Cage, The Wasp, The Vision, The Scarlet Witch, Namor, Yellow Jacket, Dr. Strange, Pheonix, Iron Man, Thor and The Thing.
The Prison Plot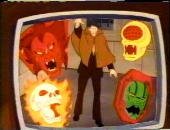 The Brotherhood Of Evil Mutants members The Blob, Toad and Mastermind appear, and Ghost Rider, Mephesto, Annihilus and ?
The Origin Of Iceman
The original X-Men appear in Bobby's Flashback.