Interview with X-Men: The Animated Series Supervising Producer Will Meugniot
Marvel Animation Age caught up with artist Will Meugniot to discuss his acclaimed works, including his contribution to the beloved X-Men: The Animated Series. Meugniot notably served as both storyboard artist and supervising producer for X-Men: The Animated Series, playing an instrumental role in how the show ultimately came together. Meugniot was able to take a few moments to answer the questions below, provided by Marvel Animation Age webmaster Stu.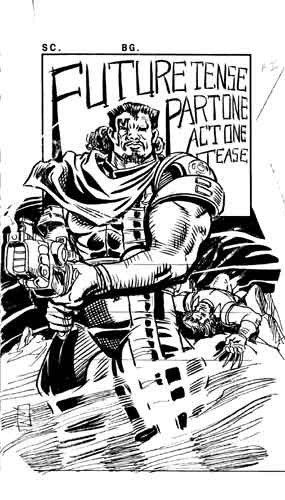 Marvel Animation Age: First off, what do you think makes the X-Men such an appealing property to animate?
Will Meugniot: It's all about the characters. X-Men in almost every incarnation has enjoyed a great blend of likable, unique heroes. Plus the subtext of young people who are finding themselves is of great appeal.
MAA: Do you have any insights into why Marvel Productions made a full-length pilot episode for the 80s X-Men, considering that MP seemingly didn't make many such pilots? How confident were they in this project?
WM: In the mid-80s Marvel had seen the tremendous upside of Hasbro's toy-based shows like GI Joe and Transformers, and thought it was a business model they could duplicate. Marvel was also experimenting with distribution of content which they owned or had a stake in, like Defenders of the Earth and their weekend hour long block, where the X-Men pilot was ultimately played.
MAA: How do you think all three X-Men shows compare in terms of animation, storytelling and X-team line-up? Which one do think has the leg up over the others?
WM: In terms of animation, I'd have to go with Boyd Kirkland's X-Men: Evolution series, though I always liked the pilot's Toei animation as well. As for character line up, the Fox Kids version is my favorite. All three of them have strengths and weaknesses, but on the whole, admitting that I'm biased, the Fox X-Men is my favorite.
MAA: With which X-Men show were you the most comfortable working on? Which one gave you more opportunity to flex your muscle?
WM: The Fox Kid's was the most satisfying to me, and the one which allowed me the most creative control.
MAA: Even though it never went to a full series, was any substantial work for the 80s X-Men ever done, such as future scripts or storyboards?
WM: No, it was a one off. Shortly after the pilot was delivered, Marvel started having financial issues and stopped work on just about everything but The Muppet Babies.
MAA: Did you approach each X-Men show differently? Were you pushed into a certain direction or did you have some wiggle room?
WM: The pilot had a lot of constraints as it was driven by the desire to create a toy line. The original story of Pryde of the X-Men was a Sentinels story. But the toy guys insisted on introducing a pantheon of villains instead. Of the three shows, I had the least input on X-Men: Evolution as it was Boyd's show and I was just doing an occasional bit of board work on it, usually for my old office mate from Marvel, Frank Paur.
MAA: After seeing your storyboards completed, which show gave you a more satisfying result? On a similar note, how do you react when a scene you boarded comes back with less than stellar animation?
WM: I always loved the Toei animation on both the pilot and my first season of The Real Ghostbusters. It's heartbreaking when the animation is disappointing.
MAA: Of all the many different Marvel Comics-based shows you have worked on, which was your favorite?
WM: Undoubtedly the Fox X-Men. Both for the show and the people I got to work with on it. Larry Houston, Eric Lewald, Rick Hoberg, the Edens Brothers and Sidney Iwanter have all proven to be life-long friends and collaborators.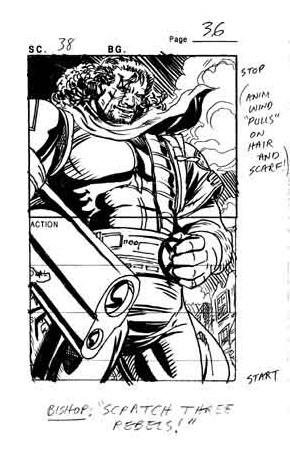 MAA: To go off-topic for a moment, you worked on the unaired Captain America cartoon. Why was the show never finished? How much work was actually done on the show? You mention casting on your site, scripts and a promo film. When was the show originally intended to air, and who was involved?
WM: For anybody who wants to really understand what was going on with Marvel during that period and why all their animated shows stopped production, I'd recommend reading Comic Wars: How Two Tycoons Battled Over the Marvel Comics Empire--And Both Lost by Dan Raviv.
MAA: Given the extent of the information on Captain America on your site (www.storyboardpro.com), it seems the show was in production for a while. Given the nature of censors in the 1990's, how were the show's producers planning to get past the use of Nazi's, who basically weren't allowed on Saturday morning TV. Was the show intended to be aimed at an older audience?
WM: It was going to be a Fox Saturday morning show, and while we had to be sensitive about the portrayal of Nazis, everyone agreed we'd be selling the audience short by not making it real WWII. We were five scripts in and had two boards in the works when the business around the show fell apart, killing it and the Silver Surfer second season pick-up.
MAA: To wrap this up, and given that this will be featured on the X-Men: The Animated Series site, do you have any favorite moments - both off and on the screen - concerning this classic series?
WM: The evening before the premiere of the first episode on Fox Kids, I'd been to Toys R Us and they had mounds of those sorry looking X-Men Bendies and early action figures which were not as nice as their later versions. A few hours after the show aired, I re-visited the store and to my shock, found they only had a single X-Men toy left, a Wolverine Bendie with a chewed up backing card. That's when I knew the show would be a hit.
MAA: Finally, fill us in on what you have coming down the pipe!
WM: I'm currently working on pilots for two different studios and trying to finish up a comic book story for my friends in Florida at AC Comics.
Marvel Animation Age would like to thank Will Meugniot for participating in this Q & A. For more on this work, visit his website at www.storyboardpro.com!
Return to Backstage