MAIN · EPISODE GUIDE · MEDIA · COVERAGE · BACKSTAGE · FORUM


Sink your teeth into Blade Anime! Eric Brooks – known as Blade – seeks revenge on Deacon Frost, the vampire who killed his mother while she was still pregnant with Eric. With all the powers of a vampire and none of their weaknesses, Blade's quest leads him throughout Southeast Asia in search of Frost. In the Golden Triangle, he discovers a vampire plot that threatens to take down the whole world. Continue below for the original announcement press release, issued December 2011.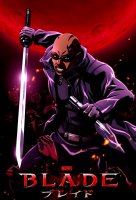 A new Marvel original anime series sinks its teeth into the G4 network with the premiere of "Blade" on Friday, January 13th at 11 p.m. ET/PT. Harold Perrineau voices Eric Brooks, the supernatural Daywalker known as Blade, making his animated series debut with more action, terrifying villains and bloodthirsty monsters than you've ever seen before. Following in the steps of other hit Marvel anime series, "Blade" offers viewers 12 half-hour weekly episodes destined to leave you wanting more, exclusively on G4.
Blade's mother was bitten by a vampire while pregnant, imbuing her unborn son with vampire strength and a thirst for blood, but without the vulnerability to sunlight. A master of weaponry with a desire to avenge the death of his mother, Blade finds himself in Japan, the Philippines, Indonesia, Vietnam, and Cambodia in an effort to take down the evil villain, Deacon Frost. With vampire hunter Makoto at his side, they will stop at nothing to destroy Existence, a vampire organization with roots deeply embedded in Asia.
As the final chapter of the Marvel original anime series, Blade will round out the partnership with G4 and Marvel. Since debuting in October, as a part of G4's Friday night line-up, "X-Men" has reached over 1.2 million total unique viewers, increasing +55% among G4's key demographic of males 18-49, while tripling with males 18-34. The first two Marvel original anime series, "Iron Man" and "Wolverine," premiered in July with similar responses from viewers to this new series.
Brooklyn native, Harold Perrineau, began his career as a dancer with the Alvin Ailey Company before taking the stage in a number of productions, including "Dreamgirls" and an off-Broadway revival of "Godspell." In 1997, he took to the big screen in a big way as Mercutio in Baz Lurhmann's "Romeo + Juliet," and in 2003 joined the "Matrix" trilogy as Link. Perrineau has also starred in hit TV series such as HBO's "Oz," and most recently as Michael Dawson in "Lost."
Directed by Mitsuyuki Masuhara ("Chi's Sweet Home," "Kobato"), written by Kenta Fukasaku ("Battle Royale") with music by Tetsuya Takahashi ("Appleseed," "Resident Evil: Degeneration," previous Marvel anime series), the talents are top notch. Produced by Madhouse for Marvel Entertainment and Sony Pictures Entertainment Japan (SPEJ). The series will be distributed by Sony Pictures Television.
Follow Marvel Animation Age on
Twitter - Facebook - Tumblr
Marvel Animation and related content are property of Marvel Entertainment,
LLC, a wholly-owned subsidiary of The Walt Disney Company, 2001 - 2013.
Marvel Animation Age and everything relating to this site - copyright, 2013.
Proudly hosted by toonzone. Contact us.